About Clay Miller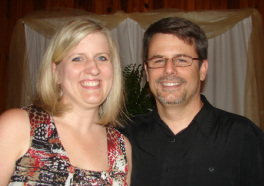 Miller Video Productions is a family business. Clay Miller has a BFA degree in Television and Radio Production and has been involved in video production for over 25 years. He has been operating Miller Video Productions full time since 2007.
Clay was a Youth Minister for 12 years, and before that worked in all aspects of Christian radio for many years.
Clay and his lovely bride, Karen, live in Evans, Georgia and are very proud of their 3 wonderful sons. Everyone in the family is involved in the business in some way.

Read what some folks are saying about us....

~ "It's hard to capture what an entire company offers in a 1 1/2 minute video, Clay Miller did just that and was pleasant to work with. Thank you from the team at D.J. & Co. Salon, Spa & Gifts Inc." DJ W,

~ "Clay did video for my wedding in Savannah, and it came out absolutely beautiful. He was an absolute pleasure to work with from beginning to end - and the finished product was amazing. Highly recommend him for any of your video needs!" Liz M

~ "Miller Video Productions has produced stellar videos for Paine College. Mr. Miller is very professional, efficient and patient when it comes to producing your product. I would recommend him for your video production needs. " Natasha C

~ "I have known Clay Miller for many, many years and was EXTREMELY pleased with his videography work. We hired him for our wedding weekend to film our rehearsal, wedding, reception and the entire morning leading up to our wedding. We were also able to customize our video and give suggestions, etc. The video montage is amazing and it's also nice to be able to watch specific sections of our wedding day (using the menu on the DVD). We will hire him again if we ever need a videographer!
Sidenote: Clay has a wonderful family and is very family oriented- I am certain that you will be pleased with his videography work." Taylor S

~ "Clay Miller videos all of our dance recitals/performances. He does a great job! As a matter of fact, we have already booked him for our [next] 3 performances for the season. He is professional, reliable, affordable and does great work! Thank you so much!" Julie P

~ "Clay has done several videos for our company. He is very professional and takes the time to make sure that your vision is met. I would recommend him to anyone looking for quality video at an affordable rate. " Christina M

~ "Clay did a super job!! He never got in the way. We didn't even know he was there. The DVD was beautiful! I am so glad I hired Clay to do the DVD for my daughter's wedding. I highly recommend him!!!" Sandra M

~ "I highly recommend Miller Video Productions to anyone in the community. My Church has used Miller Video for multiple events each year. We continue to use them." - Curtis G

~ "I was absolutely amazed at how beautiful our Parent's Anniversary video montage turned out.....and it was perfectly done the very first time!!! The way the photos were put to music and faded in and out, not to mention the added graphics.....couldn't have asked for anything more! Thank you for making our event so memorable! I plan on using your services again and again...no question! " Kelly S

~ "Clay Miller has produced a video for my restaurant, and he did an outstanding job. He is very professional as well as affordable which makes for a winning recipe...no pun intended! I look forward to using his services again soon!" Chef J

~ "We have used Miller Video Productions on a regular basis for our Martial Arts Business. Mr. Miller has always been very dependable, courteous, and he makes a great product. We are very satisfied with his company and will always recommend his services to others." Darin P

~ "The videos are amazing! Thank you so much! You captured so much and strung it together beautifully! I will definitely be referring (and if other events pop up, using) you in the future! We will treasure this forever! Thank you!!!"

~ "We just love the video, it will be watched over and over again in years to come. YAY!!!! Great job. Money well spent, no doubt!!!!!"


---
Just a few of the companies we have worked with...

John Deere
Zillow
yellowpages.com
yelp.com
Smartshoot
Youth Challenge Academy
U.S. Department of Energy/ Savannah River Nuclear Solutions
Richmond County Board of Education
Local Churches
American Taekwondo Association
American Audio Visual Services
Augusta Care Pregnancy Center
Paine College
Calling Post Communications
CSRA Home Education Association (Graduations)
Area High Schools and Elementary Schools
​CGI Communications